Much of the Michael Reese Hospital, though architecturally heralded, has been abandoned or neglected in recent years. On this page, you will find photographs of Reese throughout the years, from the late 1800s to the present day.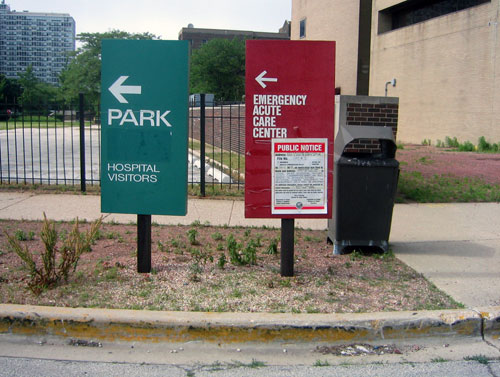 A mandatory notice posted by the city in 2008 declared its intent to demolish the campus.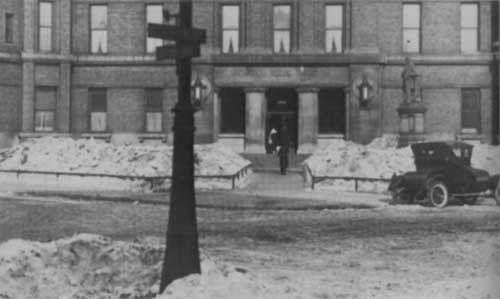 The Main Reese building, circa 1945.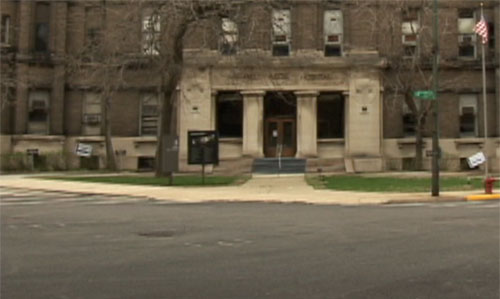 The Main Reese building, 2009.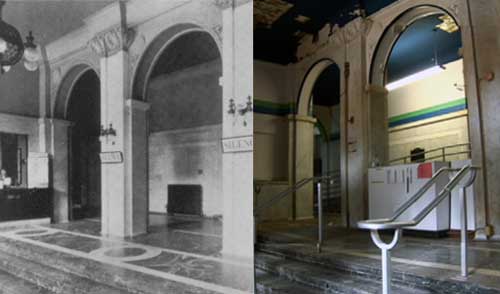 Left: the Main Reese entry room just after its completion in 1907. Right: the same room, 2008. In the years before its closure, this building had been mostly abandoned.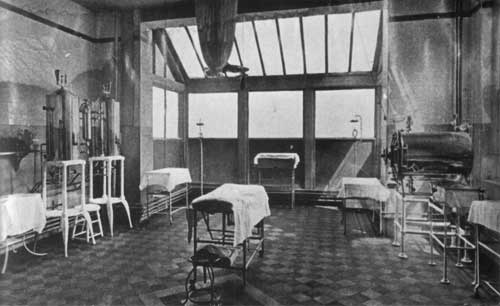 In 1900, Reese's operating room was considered a state of the art world class facility.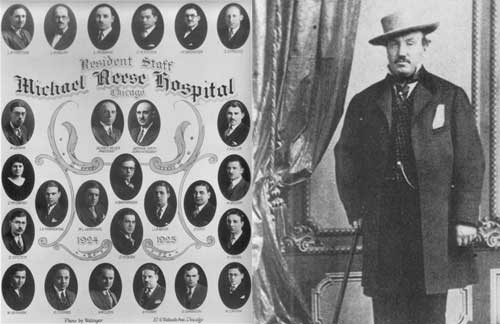 Left: a yearbook photo showing the 1924-1925 staff of resident physicians training at the hospital. Right: Michael Reese, the real estate baron-turned philanthropist for whom the hospital was named after.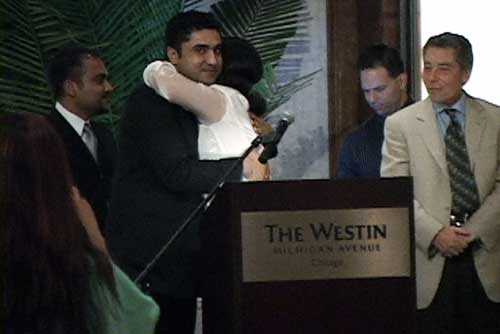 The last person to ever graduate from Reese's internal medicine residency program in 2008.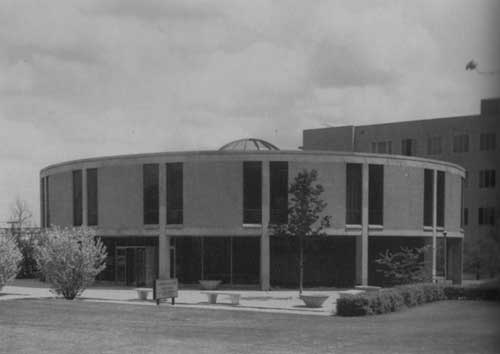 The Simon Wexler Pavilion in 1970 when it was eight years old.
The same building today. The recycling company has broken a second floor window and is throwing items out into a dumpster.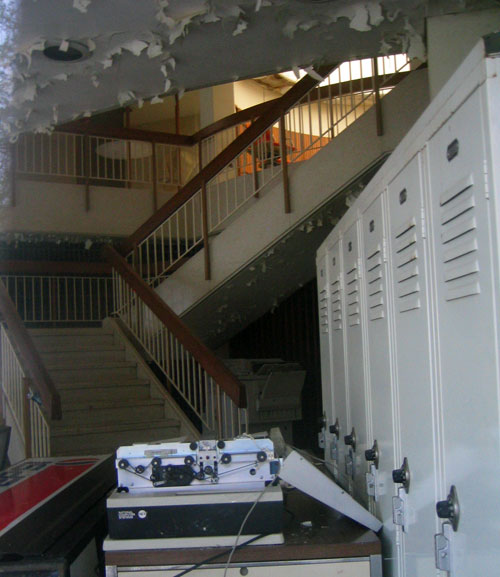 Inside the Wexler, which was used as a research and outpatient facility, paint is peeling off the ceilings and equipment is waiting to be thrown away.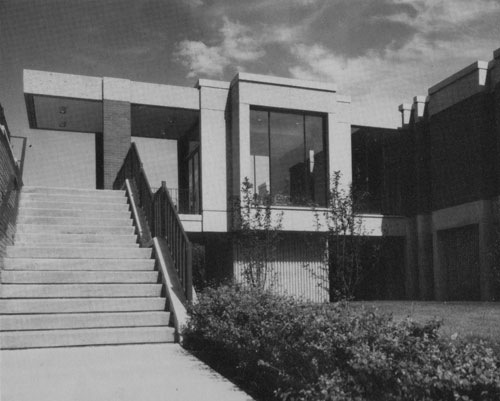 The Siegal Institute in 1970 when it was built.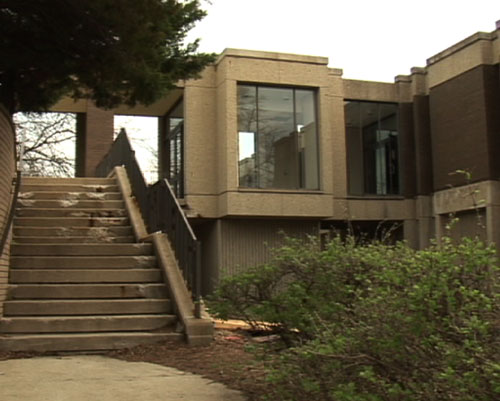 The same building, today.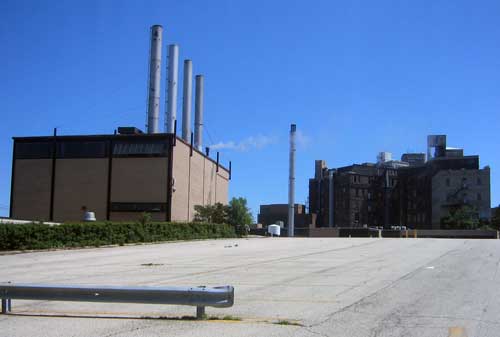 Once a city within a city, Reese had its own power plant.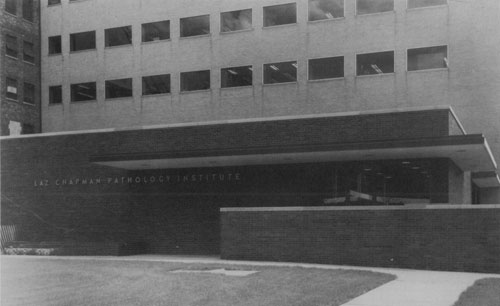 The Laz Chapman Pathology Institute for research, photographed around 1965 when it was new.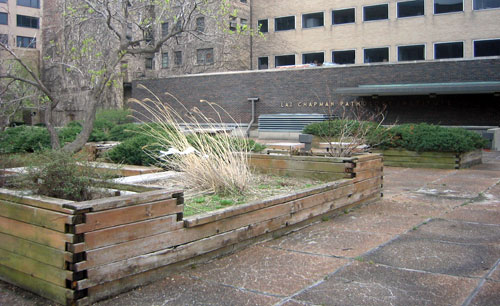 The same building today, which has been abandoned for years. Much of the medical research that Reese was known for ended after it was sold to a private corporation in 1991.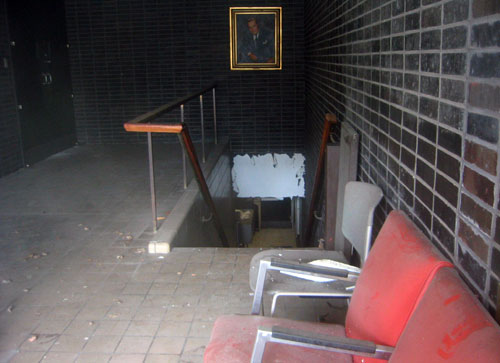 The waiting room of the Chapman Institute, photographed in 2009.
The Friend building for physical therapy, photographed in 2009.
Inside the friend building, equipment sits, waiting to be gutted.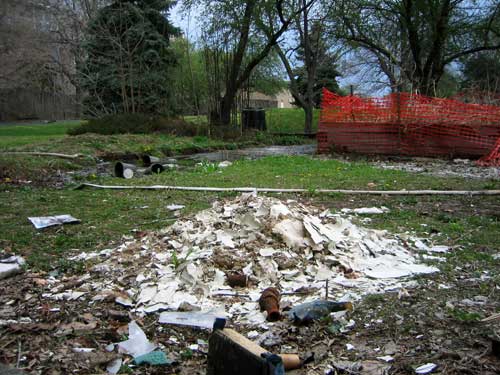 Behind the Friend building, Reese specialists had been experimenting with treating patients using garden-therapy. The garden that was here just a year ago has been trampled on.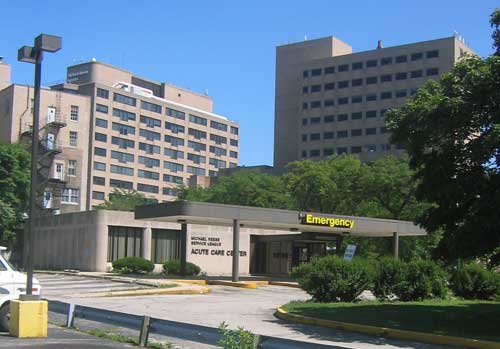 South Side emergency rooms are strained to capacity due to uninsured patients using them. When it was announced Reese would shutter its doors, many expressed fears that its closure would put a further strain on other area hospitals' emergency rooms.